As it happened, though (and as several people pointed out to Ray on Twitter), the image (a photograph by Craig Ruttle of AP) was actually of an earlier demonstration in
March,when New York haredim protested
against a change in the law in Israel removing the special exemption of the ultra-Orthodox from military service. 
This kind of reckless retweeting was addressed by Padraig Reidy in an excellent piece
here
.  It seems innocent enough – although it contributes to the excess of fog around this conflict, obscuring the facts which we need to rationally debate. And we might also wonder what rhetorical role the image of
very Jewish-looking people
protesting against Israel plays in an anti-Zionist narrative.
However, a couple of days later, Ray tweeted something a bit different. When asked why the mass demonstration of Jews wasn't being reported in New York, Ray suggested it was because the Jewish lobby controls the media:
Then, as noticed by local tweeter
Peter T
, more: 

and 
Later, Ray added that we needn't worry, because things would soon change:
Peter wrote to Lewisham People Before Profit, and got this back from leader John Hamilton: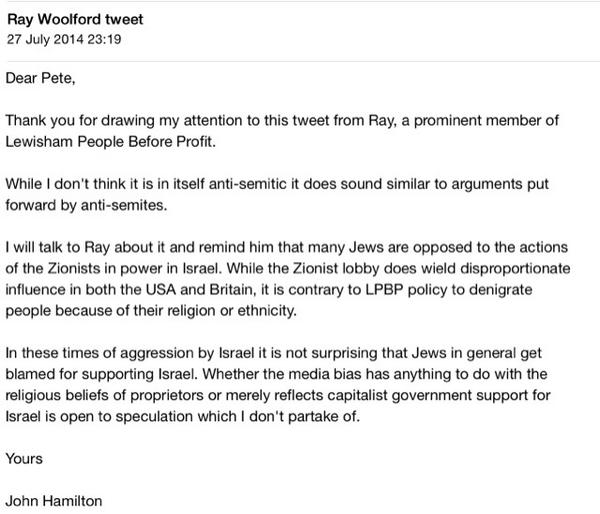 So, Hamilton thinks the claim that an all-powerful Jewish lobby controls the media and people's minds and makes all politicians scared is "not in itself anti-semitic". 
When Hamilton says "it is not surprising that Jews in general get blamed for supporting Israel", I wonder if he would say something similar about EDL attacks on Muslims. To me it seems simple: it is racism and not Israel that makes antisemites blame all Jews for the actions of Israel, just as it is racism that makes Islamophobes blame all Muslims for what jihadis do. There was plenty of antisemitism around before the creation of the state of Israel in 1948, and I don't think the Jews were any more to blame then. 
We'll see what the outcome is to their chat. But I won't hold my breath. 
Background: