Free advice to Jeremy
I wrote the first draft of this post last weekend, when conference was just beginning. I am now more optimistic about some of these things than I was then, but less optimistic about others...
So the dust has settled from the Labour right's utterly inept leadership challenge and Jeremy Corbyn has been decisively elected as leader of the Labour party with an increased mandate.
Although I knocked on doors in 1992 election, I left the party in 1991, as it was far too tepid and right-wing for my appetite. Since then, a mixture of love and hate, but it's always been there. I've lived all of that time in safe Labour wards in a safe Labour constituency, feeling like my vote was taken for granted by the party, but also taking the party for granted. In 2015, everything changed - on the one hand a chance for a party more in line with my views, on the other hand a party that seemed unlikely to ever win an election. And if the Labour Party can't ever win elections, it seems like it has no reason to exist. I rejoined this summer, but have never felt so politically homeless.
So here, for what it's worth, are a few things, in no particular order, that I think Corbyn's Labour need to do to have any chance whatsoever of having any reason to exist. Some of them are small and some are big, but perhaps the smallest ones matter the most symbolically. The extent to which they are even vaguely achievable is the extent to which it is worth sticking with the Labour project for the forseeable.
1. Get a strategy and communications strategy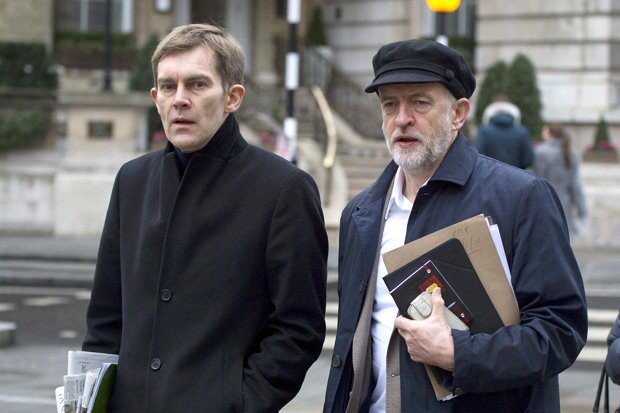 As I said, if the Labour Party can't win elections, it has no reason to exist. To win elections, it needs a strategy, and it needs to be able to communicate that to voters. The first year of Corbyn's leadership did not show much sign it could. To be fair, a huge amount of Team Corbyn's efforts were put into fighting factional battles (although a lot of energy was put into keeping the battles going). Actually, fighting (mostly losing) factional battles is most of what Corbyn and his allies have ever been good at; they never imagined before they'd be anywhere near the process of making policies, so they had a lot to learn. Putting
Seumas Milne in charge of strategy and communication
was at best a disaster, at worst a sign that fighting factional battles (not winning elections) was all Team Corbyn wanted to do. Rumours that Milne's days are numbered are an encouraging sign we might have gotten past that.
Getting a strategy and communicating it means finding the vision and messages that will win over millions of Tory voters, stop votes leaking to UKIP in the eastern half of England, stop centrists and Remainers from defecting to the Lib Dems, and mobilising the non-voting millions (especially young people - but especially the ones who live in marginal constituencies). That's a big task, but it could be possible. Owen Jones starts to spell out what it means
here
.
2. Clear out the Stalinists
Talking of Milne... the Labour right are obsessed with the
menace to the party allegedly posed by Trotskyists
, but the real danger in my view is from Stalinists. While "moderates" harp endlessly (and often inaccurately) about the AWL (a small and largely benign force) and SWP and Militant (who are nowhere near Team Corbyn), the left factions who are actually holding some of the key levers of power are less commented on. It is not Socialist Worker in which Corbyn has had a weekly column in; it is the Communist Party of Britain's Morning Star, and he has used that column to promote a basically Cold War second camp worldview, most recently in
promoting Kremlin lies about Ukraine
. Corbyn needs to break with this legacy - which seems unlikely while he is surrounded by Stalinists.
A
fter leaving Oxford, Seumas Milne cut his political teeth in a group called
Straight Left
, whose USP in the small but crowded market of the far left was that it thought most other Communist groups were insufficiently appreciative of Stalin's achievements. Milne has stayed true to that formation, regularly
arguing that Stalin's achievements (e.g. in the field of marriage equality) outweigh his crimes
, and generally
projecting a pro-Kremlin geopolitical line
.
Although Milne might soon depart his place at the top of the Corbyn machine, there are rumours that another graduate of Straight Left, Andrew Murray, is a potential next General Secretary of the Labour Party (and Murray's 27-year daughter Laura has recently been given £40K job as Corbyn's "political adviser"). Murray is Chief of Staff for Unite and as such quite a player in the labour movement - but is a member of the Communist Party of Britain. The CPB, among other things, recently affirmed its support for North Korea and for Assad's genocidal fascist regime. How a member of the CPB could even be considered as a potential senior Labour official is mind-boggling.
And then there is Socialist Action, a formerly Trotskyist party but now basically Stalinist (it worships the Chinese Communist Party and Fidel's Cuba). Its cadre
Simon Fletcher
, formerly part of Ken
Livingstone's team
, was Corbyn's campaign chief of staff and under Ed Miliband apparently designed the £3-a-vote system that got Corbyn elected; its leader, John Ross, is
allegedly
very influential on Team Corbyn. Although the SA clique seem to have been side-lined this year, they remain part of the machine.
Until people like this are nowhere near positions of power in the party, it cannot be a healthy democratic socialist party.

3. Rein in the deselectors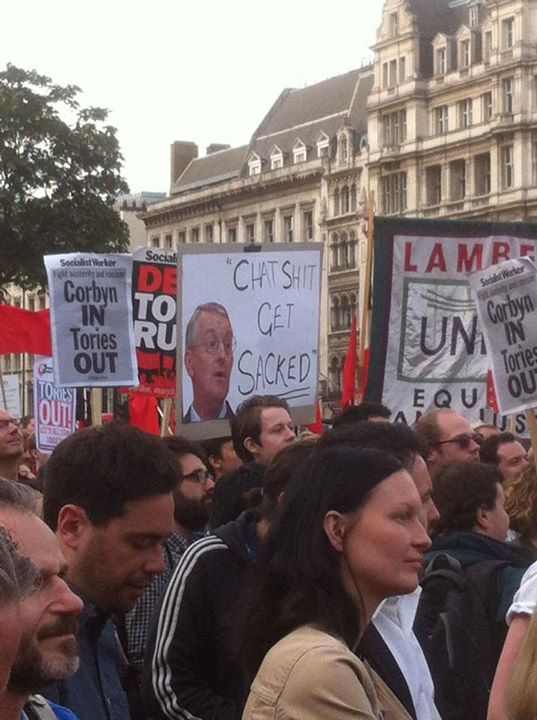 Corbyn has offered an olive branch and clean slate to his right-wing antagonists and at least some seem to be willing to meet him half-way. And yet on social media, the demand for deselections continues to clamour among the Corbynista rank and file. And with the corrupt Tory redrawing of electoral boundaries approaching, they will get ample opportunity to get their way if they can mobilise in branches.

It is not that serving MPs have a god-given right to keep their seats. But most of the targets of the deselection mania seem to be precisely the most able, locally popular constituency MPs who, while perhaps not as ideologically pure as Corbyn's loyalists, have the best chance of getting Labour a presence in parliament after 2020. Unless there is a concerted pulling together - in practice and not just in public rhetoric - then disaster is certain.

4. Take antisemitism seriously
Obviously there's a lot I could say about this (
here was my first attempt
), but I'll try to rein myself in. The problem is not that Corbyn doesn't say he won't tolerate antisemitism (usually "and all other forms of racism") often enough. The problem is that the factional rage of so many rank and file Corbynistas is so intense that any discussion of antisemitism on the left in general or in the party in particular is shut down before it starts. Instead of openness, reflection and learning, the culture is to get defensive and hunker down. When specific allegations of antsisemitism are made, the default reaction of most Corbyn supports is to claim they are made in bad faith, to describe all allegations of antisemitism as driven by an animus to Corbyn (either because he supposedly "threatens the establishment" or because of his views on Palestine). Instead of Ken-style doubling down, Labour could learn from Naz Shah's gracious apology and commitment to dialogue. As Rachel Shabi
puts it
:
[The left] are not inoculated against being antisemitic or racist – or sexist, for that matter. Progressives for whom the Palestinian cause is important can have blind spots over, and be desensitised to, antisemitism. Yes, it's hard to admit susceptibility to such "isms", but acceptance (we are all susceptible) really is the first step. And the onus is on the progressive left to get this right (this step being one of the things that "progressive" means). So it doesn't work for the left to counter accusations of antisemitism by saying the Tories have a bigger racism problem: true, but hardly the point.
I take a little bit of hope from the fact that quite a lot of Momentum supporters -
Barbara Ntumy
,
Manuel Cortes
,
Andy Newman
,
Aaron Bastani
, Owen Jones, among others - have unambiguously criticised Jackie Walker for her series of dodgy comments about genocide, slavery, Zionist conspiracy, and Jewish fear of antisemitic violence. Although a small number of Jewish anti-Zionists are providing her with cover, I feel the tide might be turning on the tolerance of this sort of thing on the left.
5. Cut ties with Stop The War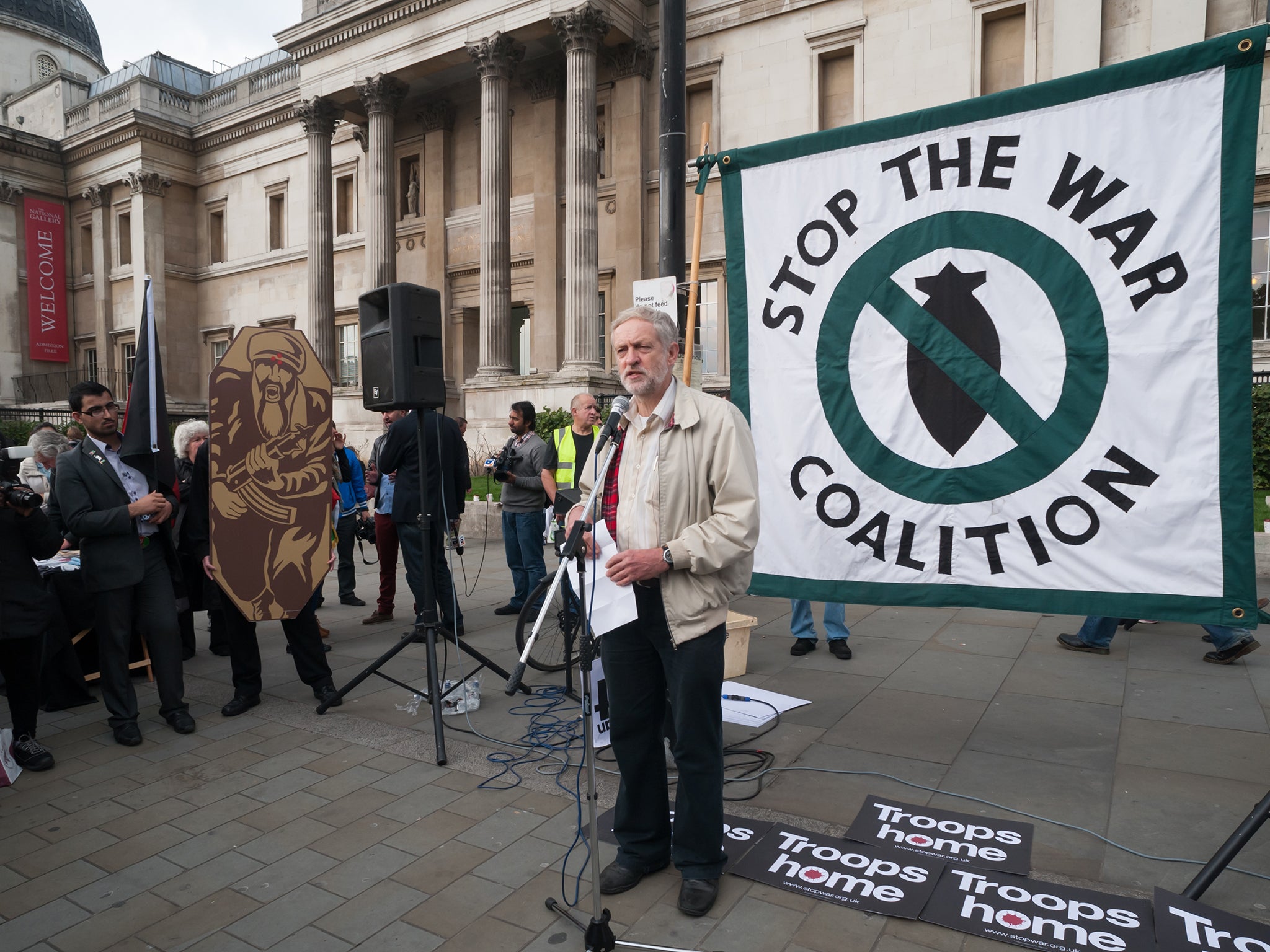 Nothing symbolises what's wrong with the British left as much as
Stop the War,
an organisation that Corbyn has been intimately involved in from its formation. Lots of sensible people opposed the Iraq war in 2003 and therefore might forgive StW its early work, but its ugliness has become clearer and clearer since the slaughter of Syria began in 2011.
StW seem unable to make an unqualified criticism of the main perpetrator of deaths in Syria - the Assad regime and its backer Russia. It r
efuses to let Syrians speak at their events
unless they are
actually mouthpieces of the military junta
. StW's leaders include Andrew Murray (see above), as well as Counterfire's Lindsey German, who recently tweeted an endorsement of
an almost unbelievably awful article
by crackpot ex-ambassador Craig Murray which claimed that actually barrel bombs aren't that bad. I could go on, but
this post by Paul Canning
sums it up well. In short, as long as Corbyn remains close to this outfit, no internationalist, no-one who is genuinely against wars, can whole-heartedly endorse him.

6. Cut ties with Stand Up To Racism
And the other toxic organisation with which Corbyn remains associated is
Stand Up To Racism
- indeed, he's speaking at one of their events this coming week. This group, which overlaps organisationally with
Unite Against Fascism
, is a front for the Socialist Workers Party, and is led by people who were on its Central Committee of the SWP during its "Comrade Delta" period. As ex-SWP member Dave Renton summarises (via
Coatesy
):
In 2010 a man called Martin Smith ("Comrade Delta") was the National Secretary of the SWP, its day to day leader, the person who employs the other party workers. In July of that year, a 17 year old woman ("Comrade W") complained that he had mistreated her. She didn't use the word "rape", but the people who met her and heard her knew what she was talking about. From the start, Smith's supporters (including Weyman Bennett, who worked with him on the SWP's anti-fascist campaign) put pressure on the women who helped Comrade W, calling one of them a "traitor", ostracising and dismissing them and forcing them out of the SWP.
So, yes, stand up to racism - but not by associating with this lot.
7. Fight against racism and for migrant rights
Standing up to racism has to be a top priority for Labour. The wave of post-Brexit violence against migrants and minorities has been truly terrifying. Labour needs to take leadership on this, not pander to the lowest common denominator on these issues. Corbyn needs to stand firm against the voices, mainly on the right of the party (most recently Rachel Reeves and Stephen Kinnock as well as, more surprisingly,
Jonathan Freedland
) who think that being anti-immigration is the "realist" way back to power for Labour.
Too often, an embrace of anti-immigrant politics is justified by an appeal to "the white working class", even though this a
largely mythical beast
. (
Inconvenient fact
: only around 39% of Leave voters were working class and only around 32% of working class voters actually ticked the Leave box in the referendum.) Yes, we need to listen to the "concerns" of those people who feel left behind by globalisation; but we don't have to embrace positions we know are wrong because we think that might win them over.
Most British voters, if asked if immigration is a problem for their area, say it isn't; they say it is a problem for the country. They're most likely to say that (and voted Leave in the largest numbers) where there are the least immigrants. That suggests that the media and politicians constantly talking up the migrant threat - rather than actual experiences in communities or in the labour market - drives anti-immigrant sentiment. And that means it is the responsibility of decent politicians and of the labour movement to take some leadership in challenging those narratives.
8. Defend free movement
The defence of
free movement
is a vital symbol of what Labour values should be on migration issues - I'd even say a red line issue. Corbyn and McDonnell seemed lukewarm about free movement after the Referendum, but are starting to firm up a more positive position. The key point, I think, is that the right to free movement of labour is our right. Whether the UK gets access to the free market post-Brexit, capital always finds ways of moving across borders; our right to cross borders is something to defend in a globalised world. Abandoning free movement is to embrace a nationalist idea of the working class. Labour values instead should be about solidarity, about the common cause of working people born in Britain (including those left behind in a globalised world) and those born abroad.
9. Promote a more consistent internationalism
Although Corbyn's supporters see him as an internationalist, it seems to me his internationalism is highly selective. True, he has performed brilliantly in denouncing our links with Saudi Arabia, and he has a track record (muted in recent years) of championing unpopular causes like the Kurds and Western Sahara. But his appalling Stalinist views on
Ukraine
, his dreadful positions on
Venezuela
(reflecting a
problem on the wider left
) suggest a less impressive picture.
Although geopolitics is not a vote-winning topic, the silence of Corbyn and other Labour leaders on Syria at conference - in a week when chemical weapons and barrel bombs were raining down on Aleppo - was glaring to many people far beyond the usual Syria solidarity scene. Corbyn's inability to name or blame the perpetrators and his refusal to countenance any action in support of those suffering is one of his most shameful positions. Labour -
in the spirit of Jo Cox
- needs to speak out on this, and now.
10. Push forward young faces
Finally, the cause for hope that some of this stuff might be possible is in the younger generations of activists and politicians. It is common these days to denounce the apathy and clicktivism of millennials, but my impression is that younger activists - free of the baggage of the 2003 Iraq war moment and of Cold War "anti-imperialism" - represent a better sort of politics than the left's old guard does. This week,
many
mainstream
journalists noticed that Momentum was not full of shady old Trots but included energetic, savvy young people from all sorts of walks of life.
This trend might also be reflected in the impressive younger MPs and younger grassroots activists on the party's left and its right (many of them women) who have come to prominence in the last year. Unfortunately, many of the non-Corbynista ones (e.g. Stella Creasy, Lewisham's Heidi Alexander, Jess Phillips) have been treated so shabbily by team Corbyn that they will remain marginal rebels, but they, as well as people like Clive Lewis, Lisa Nandy and, outside parliament, Barbara Ntumy, perhaps point to a possible future Labour party.