Ellie Greenwich, z''l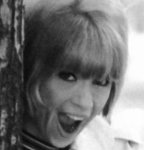 The great songwriter
Ellie Greenwich
died on Wednesday night. Ellie Greenwich was far from a household name, but
the songs she wrote
(many co-written with her husband,
Jeff Barry
) have seeped deeply into the consciousness of anyone who has lived in the Western world in the last five decades. Some of her songs are fairly light pop hits, like "
Da Doo Ron Ron
", "
Do Wah Diddy Diddy"
and
"Hanky Panky
". Others, such as "
Be My Baby
", "
Leader of the Pack
" and especially "
River Deep, Mountain High
", are in another league: fragile, emotional mini-dramas (or, to use
Jerry Leiber
's phrase, "playlets") of love, longing and loss.
Greenwich was gemisht: born in 1940 to a Catholic father and a Jewish mother, and from Brooklyn. She went to the same college as my mother, Hofstra, but was already an earning songwriter by age 17. In 1959, she found her way to the
Brill Building
, the mainly Jewish centre of popular music songwriting, where Leiber and Stoller recognised her talent. She later played a key role in shaping the Phil Spector sound (half
these archetypal Spector numbers
are actually Ellie's), and was the person who discovered Neil Diamond. She also wrote and sang backing for Dusty Springfield.
Although "Be My Baby" has been recorded by more people and was a far bigger hit, I think her most important song was "River Deep Mountain High", written with Barry. It was released in 1966 and was a complete commercial disaster. Mick Billig, in his wonderful little book,
Rock 'n' Roll Jews
(my copy a gift from my friend Les), gives Ike Turner's explanation why. R&B stations wouldn't play it, Ike said, because by 1966, soul music was fully formed, and "River Deep" sounded too pop, too white. And pop stations wouldn't play it, because it was too soul, too black. As Ike put it, "America mixes race in it." While the Drifters, Coasters and Ronnettes in a slightly earlier moment had crossed racial lines to achieve chart success, that was no longer possible in quite the same way in 1966.
Incidentally, the personnel on the record includes
Barney Kessel
,
Glen Campbell
and
Leon Russell
, all people who, as well as being amazing musicians, exemplified different forms of crossing and mixing.
As time went on, Ike and Tina "blackened" the song.
This live version
from 1966 is slightly rawer than
the Phil Spector Wall of Sound single
. Later performances on YouTube -
this
is 1967, when the record was re-released;
this
is from the late 1960s;
this
is 1971 in Ghana;
this
is from 1973 - get progressively more soulful, more fierce, more belting, more gospel. (For the sake of completism, you might want to check out
a more recent Tina Turner version
, smothered by an orchestra and slinky backing singers, for French TV, and
a 2000 London performance
on fine form.)
Greenwich attributed something of her musical sensibility to her own mixedness, as
Ann Powers' wonderful appreciation
captures:
"My father was Catholic and my mother was Jewish. I was destined for something -- half and half, and on the cusp of everything."

Greenwich emerged as a songwriter when America itself was on the cusp of everything, a whole set of conventions unspooling under the power of rock 'n' roll, the civil rights movement and the incipient counterculture. Her American polyglot upbringing prepared Greenwich, who died today at age 68 of a heart attack, for what she became: one of the great sound alchemists who turned the ambiguities of youth into the essence of American pop.
Greenwich was a singer in her own right. Her
"I Want You To Be My Baby"
(a belting distant relative of "Be My Baby") arguably stands alongside Dusty, as does more restrained 1966 Northern Soul favourite "Sunshine After the Rain". On both of these, she sounds as likely to be black as white, although this is less true of "
Baby
" (gosh, she liked that word!).
But, like most of the other Jewish artists in her milieu, she was a definitive backroom person, destined to obscurity. Thus she sang demo versions of songs by the other Brill Building kids, some of which (like
this, "Love is Better"
, from 1963) could be hits in their own right with just a little more polish.
She was significant too in terms of gender. As
Jess writes at the Volume Knob
, Greenwich gave a public voice to female desire, as
these YouTubes
testify, in a way that was incredibly rare in the mid-1960s. Or, as
one male blogger writes
, "I probably gained more insight into the minds of teenage girls from Greenwich than from Jane Austen, Thomas Hardy and Judy Blume combined."
To round off, listen to some Ellie Greenwich covers:
Glasvegas
,
DM Stith
,
Les Surfs
,
Bruce Springsteen, Beth Orton
,
Frank Alamo
, and
many more
.
Bonus link:
Pop Culture Cantina
.