End-of-week miscellany
Sorry that all my blogging lately has been either just links, or in the comment threads. Here's another batch of the former.
Les
Instead of starting with Libya, as my recent posts all seem to have, I will start closer to home, with the lovely Les Back. Listen to him talking
about dub, reggae and sound system culture
; and read him about
bombing
- the latter highly recommended.
Middle Eastern revolutions
A roundtable
on the war in Libya and the Arab spring
, from Reason.com. Two from the AWL: Ira Brekovic
on the left on Libya
and Gerry Bates
on the battle for democracy in the Arab revolutions
. Two from Dissent: Todd Gitlin
on Tahrir Square
and Feisel Mohamed
on the Muslim Brotherhood
. Another piece I missed in February,
by Andre Glucksmann
. Might have already posted this, but here is Hitchens still on form,
on the Iraq effect
.
Libya:
A
Libyan perspective
from Tasnin. Uri Avnery
on Gaddafi
.
Syria:
Not about revolutions, but about tyranny and its unexpected fellow travellers:
Vogue to Syrians: Eat Shit 1
and
2
. Michael Totten
on the tyrant of Damascus
.
Egypt:
Patrick Cockburn
on the fight to keep the revolution alive in Egypt
. Amani Maged
on Salafi violence in Egypt
.
Liberal interventionism/responsibility to protect
Ian Williams on armchair anti-imperialism. Sunder Katwala
on the Ivory Coast
. Paul C
on Rebecca Hamilton on Darfur
(with an interesting comment thread, including a Sudanese nationalist recommending the
appalling
Mahmood Mamdani). Wilson Pruitt
on Mamdani and Badiou on Libya
, and Aziz Meshiea's
response to Mamdani's anti-imperialist diatribe
. JM Smith
on the unexpected liberal hawks
.
And, on a different side of humanitarianism, Jewlicious on
how money for orphans in Malawi ended up at Madonna's kabbala cult in Beverley Hills
.
Lewisham libraries in the age of austerity
Transpontine has the latest on New Cross Library
. See also
The Future of New Cross
. When our libraries are closed down by a Labour council carrying out Con-Dem cuts, and they are replaced by "social enterprises" running "community libraries", staffed mainly by BigSoc-style volunteer labour - what is the correct political response? Answers on a postcard please, or in the comments box below.
East London Pride
Sarah AB
and
Lucy Lips
on the complex politics of triangulating Islamophobia and homophobia.
Fisticuffs
Also at HP:
on Lee Jasper, Andy Newman and the Terry Fitz affair
. (Say what you want about Andy Newman, but you have to admit he
has superb taste in music
.)
Malcolm X: bisexual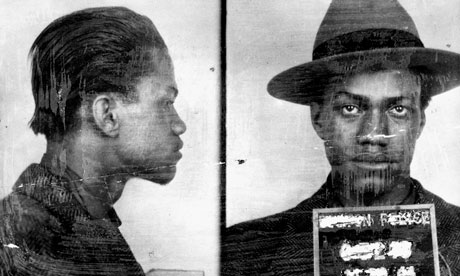 Read
Peter Tatchell
and
Ron Radosh
on the late Manning Marable's posthumous biography.
The immigration debate
Chris Dillow
on immigration and productivity
. Ruth Grove-White
on immigration rules and domestic violence
. John Grayson
on fear and hope
. Zoe Williams
on the cap
.
Food for thought
Three fascinating readings
suggested by Noga, on Hitler-loving Jews, Arab Jews and the right of return. CiFWatch
on the Orwellian Orwell prize nominees
.
Iz/Pal:
The life and death of
Juliano Mer Khamis
- reflections on a tragic death, which bear on the issue of binationalism we looked at a while ago: from
Ralph Seliger
,
Avi Shavit
(h/t
Engage
),
Gideon Levy
and
Jonathan Holmes
. I will not link to the Angry Arab or Harry's Place posts on this death, because I found the atmosphere at both rather unpleasant. Here, however, is one of the comments from HP:
Nick D:

Good points by Ari Shavit. [...]

[The Freedom Theatre in Jenin Refugee Camp] survived for years, despite having a Jewish Israeli at its helm. Other cultural institutions also survive and flourish, including the music school I work for here. If Palestinian society was as sweepingly intolerant and morally bankrupt as you claim this would not be the case. As usual, many HP respondents latch onto the aspects of this story that fit their agenda.

Tonight there is a performance of Ionesco's "The Chairs" (in one of the theatres) in Ramallah which I will go to without any expectation of being knifed as I leave. Soon there will be an international dance festival. The fanatics who murdered this man do not define the place, as much as you would wish them to, and as little as I want to marginalise their significance.