Old soldiers, broken promises, class prejudices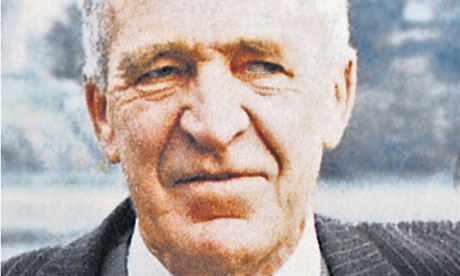 Mick Hall's socialist blog, Organized Rage, regularly re-posts
obituaries
of the unsung heroes of radical struggle, often from the Guardian's lovely "
other lives
" series. He published the obituary of
John Watson
, a British soldier, and a fascinating man:
"His battalion was posted to Palestine in 1948, as the British Mandate came to an end. Watson was appalled by the imminent destruction of the new state of Israel – attacked as it was on four fronts and wholly undefended by the British army. He thought it morally wrong that Jews, who had experienced so much already, should be slaughtered, again. Rifle in hand, he went over the wall to volunteer with Haganah and take part in front-line combat. In the siege of Jerusalem he was wounded. After the conflict he worked on a collective farm, where he met Ora, the woman he married. They went on to farm for four years.

In 1954 he and his wife resolved to return to Britain. He informed the authorities and on his arrival he was arrested and court-martialled for desertion, which he candidly admitted, and sentenced to a year in military prison, which he accepted as his due. The "glasshouse" was notoriously tougher than civilian prison. He was released, for good conduct after eight months and returned to the Suffolk Regiment."
This was particularly interesting thinking about the recently screened Channel 4 drama series, The Promise, with its representations of British soldiers who served in Palestine, one falling in love with a Jewish girl and thus betraying his British comrades, another falling in love with an Arab people and thus honourably fighting alongside them against the Jews. I also learnt, talking to my father about it, a couple of facts about his father. Like John Watson, my granddad was a working class career armed forces man, in the Navy, who rose to petty officer (the equivalent rank, I think of Waton's warrant officer, and often the highest rank that working class people could reach). Having an Irish mother, he was not sent to Ireland after WWI, but (and this was one of the things I hadn't known) to Mandate Palestine instead.
If anyone wishes to understand what a class prejudiced swamp the UK is, then they need look no further than the obituaries pages of what are laughing called the 'quality dailies.' They are full of middle class worthies who have played a role in making the United Kingdom the most unequal nation in western Europe, be they civil servants, judges, politicians. No matter what, your obituary is assured if you are a member of this elite, even if you have spent your life as a tax dodging business man, a judge who sentenced countless innocent people, a TV executive producing crap, politician who lie out of habit and self interest, or military officers whose campaign medals include such illustrious victories as the six counties of Ireland, Suez, Afghanistan, and Iraq.
True the odd middle class lefty may get a look in, along with luvies and musicians by the score, and just so we do not forget the empire where the sun never set, the occasional Gurkha squadie who during WW2, killed 81 Japanese solders in a single afternoon.
I once asked the editor of an obituaries page why he rarely published obits of ordinary people who have experienced or done interesting things in the lives. "Ah Mick," he replied, you simply do not understand, I would love to, but you must remember we rarely have photos of such people in our libraries and an obit cannot go out without a picture alongside"
I nodded and turned away thinking, does he really believe such crap. Of course I am over egging the pudding here, but not by that much, the Guardian now has the excellent Other Lives, but even its title suggests a certain amount of class prejudice, it is as if there are those who deserve by right to be in the papers obituary page and those who lived other lives and do not.
Below is an example of what I mean, few people lived a more interesting life than [John] Watson, a man who fought tenaciously for sovereign and country, but also when a situation arose, turned away and fought for a people who he believed needed his help. His causes are not mine, but I defy any honest man not to raise his cap to this old solder."
I agree with most of Mick's sentiments here, but one thing slightly disturbed me: the implication that Mick's leftist audience are likely to disagree with his assessment of John Watson, because he served in the military and because he was on the Israeli side in 1948.
Another resonance: it is Christopher Hitchens' 61st birthday on Wednesday this week, and I am glad that he will live to see it. I am reading the new paperback edition of Hitch-22. I found the first chapters, about his parents, incredibly moving, but then found the account of his privileged education rather tedious. The Hitch's father had a number of similarities to my granddad. As well as some geographical coincidences, both were working class men who gave their lives to the British armed forces (my granddad lied about his age to join the Navy when war began in 1914; he was just 14). Both remained committed to their sovereign and country, and saw the empire and Commonwealth as Britain's true friends, not the Atlantic alliance. Hitchens beautifully captures the tragedy of their working class Tory worldview ("so little to be Tory about", as he notes).