We Are Not All Julian, and Julian is Not Pussy Riot
Like most libertarians, I was vaguely impressed with WikiLeaks and its figurehead
Julian Assange
when they first entered my consciousness. As time has gone by, however, I find Assange more and more distasteful, with his megalomania, his promotion of a (para)politics of paranoia, and of course his disgraceful response to the credible allegations against him of sexual assault.
The miasma of misogyny that floats around him and his supporters is one thing that puts me off him even more. Today, unbelievably, George Galloway
claimed
that "even if the allegations made by these two women were 100 per cent true. . . they don't constitute rape." A bit like the "not rape-rape" claims by Polanski's supporters. It follows
Terry Jones on Twitter
claiming that "Not wearing a condom is not a crime in this country",. As Naomi McAuliffe
writes
, "If you find yourself needing to do intellectual somersaults to justify a rape or semantic back-flips to refine rape, then you might want to consider whether all your principles are so flexible."
But Assange himself and his supporters
regularly come out
with this sexism, that if it came from conservatives would have liberals denouncing them soundly. His associate
Israel Shamir
: "It is no coincidence that the enemies of Empire are all masculine males, be they Gaddafi, Castro, Chávez, Lukashenko, Putin – or Julian Assange. It appears the men have been targeted for elimination; the working ants need no sex." Assange himself:
"Western culture seems to forge women that are valueless and inane."
And: "
The reporters on the Guardian disappointed me. They failed my masculinity test
." Loads more examples
here
. Mind-boggling.
***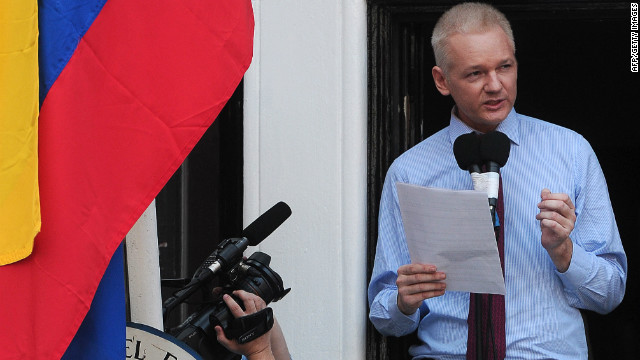 And Assange's speech from the balcony of the Ecuadorian embassy yesterday put him one notch down in my estimation.
It was good that he drew attention to one of the world's less well known acts of repression of free expression, near the end of his speech, when he said "On Thursday, my friend,
Nabeel Rajab
, was sentenced to three years for a tweet." Rajab was
found guilty by a court in Bahrain
of instigating and participating in several illegal gatherings and sentenced to three years in jail. Rajab, who is president of the
Bahrain Centre for Human Rights
, is already serving a three-month sentence for posting anti-government comments on Twitter. Rajab is a real hero, and it is good that in an uncharacteristic act of sharing the limelight, Assange has put some of the public's attention on him.
Or is it rather that Assange suspects that sympathy for him is flagging outside of his zombie cult, and seeks to bolster his glamour by association with genuine heroes of free expression?
After mentioning Rajab, he continued: "On Friday, a Russian band was sentenced to two years in jail for a political performance. There is unity in the oppression. There must be absolute unity and determination in the response." The band in question, which he was oddly too prim to name, was of course
Pussy Riot
.
Pussy Riot's "
punk prayer
" against Vladimir Putin earned them
two years in a prison colony for "hooliganism motivated by religious hatred"
. Again, they are genuine heroes of free expression, imprisoned for purely political reasons by an authoritarian regime.
But why should there be "absolute unity" between their cause and that of Assange. Assange's personal cause, when it comes down to it, is not about WikiLeaks but about whether or not he should answer serious sexual assault charges. By comparing himself to Pussy Riot, he demeans their cause.
And by offering solidarity to them, he is guilty of gross hypocrisy. As the
Guardian
reported
,
Evgeny Morozov
, the author of the
Net Delusion
,
tweeted
: "Great that Assange supports Pussy Riot. Perhaps, he can have them on his TV show. Oh wait...." Morozov
later tweeted
: "Another idea for a great Assange show on RT: interview the Belarusian whistleblower Alexander Barankov about to be extradited from Ecuador."
Assange's TV show
was on
Russia Today
, the state-funded media outlet that is the main global mouthpiece of the Putin regime which locked up Pussy Riot.
Russia Today
(or RT) has been described by the
Columbia Journalism Review
as a "soft-power tool to improve Russia's image abroad, to counter the anti-Russian bias the Kremlin saw in the Western media. Since its founding in 2005, however, the broadcast outlet has become better known as an extension of former President Vladimir Putin's confrontational foreign policy." During Russia's Ossetian war in 2008, "
Reporters
who tried to broadcast anything outside the boundaries that Moscow had carefully delineated
were punished
." Shaun Walker,
Independent
's Moscow correspondent,
claims that
.
"It is untrue that the channel's journalists are able to report on what they want to without editorial influence; while as time has gone on there have been more features on "negative" aspects of Russia, there is still a total absence of any voices criticising Prime Minister Vladimir Putin or President Dmitry Medvedev," he says. "The channel's coverage of Russia's war with Georgia was particularly obscene. With Western TV networks hooked on a "New Cold War" headline and often not too well versed in the nuances of the region, there was a gap in the market for a balanced view of the conflict that explained Russia's position. Instead, RT blasted "GENOCIDE" across its screens for most of the war's duration, produced a number of extraordinarily biased packages, and instructed reporters not to report from Georgian villages within South Ossetia that had been ethnically cleansed."
Another
criticism
often levelled at RT is that
in striving to bring the West an alternate point of view, it is forced to talk to marginal, offensive, and often irrelevant figures who can take positions bordering on the absurd. In March, for instance, RT dedicated a twelve-minute interview to Hank Albarelli, a self-described American "historian" who claims that the CIA is testing dangerous drugs on unwitting civilians. After an earthquake ravaged Haiti earlier this year, RT turned for commentary to Carl Dix, a representative of the American Revolutionary Communist Party, who appeared on air wearing a Mao cap. On a recent episode of Peter Lavelle's CrossTalk, the guests themselves berated Lavelle for saying that the 9/11 terrorists were not fundamentalists.
They also promote rapid 9/11 truth culter
Alex Jones
and "
reported with boosterish zeal
on conspiracy theories popular in the resurgent "Patriot" movement."
Meanwhile, despite tough talk to Ecuador, how have Cameroon and Hague stood up to Putin? As Denis MacShane
notes
, this week, in the wake of the Pussy Riot verdict, "British Conservatives will be at the Russian Embassy in London to launch a "Conservative Friends of Russia" group and William Hague has made clear that under his foreign policy trade trumps human rights."
And who is
Alexander Barankov
? Another
genuine her
o, whose fate contrasts sharply with Assange's. He got asylum in Ecuador three years ago, after whistle-blowing against corruption in the dictatorial regime of Alexander Lukashenko in Belarus. However, responding to pressure from Lukashenko during a trade visit to Quito last month, Barankov has been
detained and looks likely to be deported
to Belarus, to face trumped up treason charges.
The WikiLeaks outfit, while claiming to speak truth to power, is oddly economical with the truth when it comes to Lukashenko's power in
Belarus
. Belarus has one of the
worst records for press freedom
in the world, is widely regarded as "
Europe's last dictatorship
". Yet WikiLeaks have co-operated closely with its regime.
WikiLeaks links with Belarus
are mainly through their associate and apparently "accredited" journalist
Israel Shamir
,
a Holocaust denier, inveterate self-reinventor and antisemite
. It was
Shamir
, in the odious
CounterPunch
, who publicised the identities of Assange's alleged rape victims, in deeply misogynistic articles making ridiculous claims that they were CIA operatives. Shamir has also published pro-Lukashenko propoganda in CounterPunch, claiming
"
the people were happy, fully employed, and satisfied with their government".
In early 2011, it was
reported
that Shamir met with Uladzimri Makei, the Head of the Presidential administration in Belarus. Subsequently, it was reported in the Belarus Telegraf that a state newspaper would be publishing documents about the Belarusian opposition. What has Assange's response been to allegations about Shamir? In
Kapil Komoreddi
's words:
he upbraided Ian Hislop for publishing an article in the Private Eye that exposed Shamir as a Holocaust denier and white supremacist. There was, he claimed, a "conspiracy" against him by "Jewish" journalists at the Guardian. Addicted to obedience from others and submerged in a swamp of conspiracy theories, Assange's reflexive reaction to the first hint of disagreement by his erstwhile friends was to hold malign Jews responsible.
(Read more
from WW4Report
on that story.)
So, all in all, I concur with Jim's assessment of Assange:
bleating fantasist, groveller, hypocrite and charlatan
.
***
In The Commentator, a mildly amusing
spoof Assange embassy diary
. It turns on a lame and tedious gag idea about Ecaudorians eating guinea pig. Ha ha. I spent a month in
Ecaudor
a while back. Guinea pig is sercved, but mainly only in the mountains and not exactly ubiquitous even there. I don't recall seeing it much in Quito or in Ecuador's real metropolis, the wonderful coastal Guayacil. I refrained from eating it, but in general I can report that Ecuadorian cuisine is excellent. Lots of coriander. Lovely fresh fruit juices.
Fanesca
and other great soups. For the carnivores, tasty chorizos and roast pig. Loads of seafood on the coast, most notably great
ceviche
.
There's also the predictable panpipe gag, which will bring a smile to those of the Fast Show generation. But actually Ecuadorian music, especially out of the mountains, is pretty good. On the coast most people listen to salsa. Their national music is the pasillo not the panpipes, and I've embedded a good example below.

***
All the links you need and more from
The Soupy One
.