Lewisham's future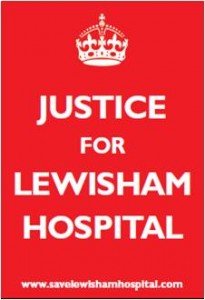 [Post updated 15.05.2014 15:53]
Tonight
- Tuesday Tuesday 15 April 2014 - the
Save Lewisham Hospital campaign will be holding its AGM
. It will start promptly at 7.30 in the Lessof Auditorium* at Lewisham Hospital. Details are
here
on the campaign's website. I'm not sure I can go, but you should - and here's why.
The Lewisham Hospital campaign has mobilised a large proportion of the local community and had some important victories, saving the A&E and maternity services from the threat of closure, and,
through the courts
, successfully defeating Jeremy Hunt's un-democratic decisions. These victories have been won by working with Lewisham council and its Labour leadership.
The campaign has also faced defeat, as Hunt responded to his court defeats by pushing through dangerous legislation (
Clause 119
of the Care Bill) that would give the government arbitrary powers to overrule local decision-making and close hospitals at will. 38 Degrees put considerable effort into supporting a Lib Dem amendment that would have mitigated the worst aspects of this. However, the Lib Dems moving the amendment were bought off with empty assurances and an offer of a chairmanship of a parliamentary committee. In the event, there were more Tory rebels voting
/
for the amendment than principled Lib Dems (Leeds' Mark Mullholland was the only Lib Dem voting against Hunt). This leaves Lewisham - and other hospitals across the country - very vulnerable. And the Tories are also moving to
"clamp down" on judicial reviews such as that which defeated Hunt
, making government even more unaccountable.
Our NHS, locally and nationally, faces other challenges, including outsourcing, privatisation and the burden of inherited toxic PFI debts.
The AGM will vote for its officers and steering committee. There will be an election for the chair, between the incumbent
Louise Irvine
and challenger
John Hamilton
**. Irvine has led the campaign up til now, working closely with 38 Degrees. Hamilton is also a Lewisham mayoral candidate for
People Before Profit
, while Irvine is
standing
in the European elections for the
National Health Action (NHA) Party
.
Hamilton's nomination statement starts by attacking Irvine, saying she has "compromised the independence of the campaign by pandering to Labour apologists for PFI". It is true, I believe, that part of the problems faced by Lewisham Hospital have been due to the legacy of bad PFI deals set up under the Labour government. But in my view that does not mean that the campaign should focus its energy on fighting against a Labour council which has defended the hospital. Considering that the accusation against Irvine is that she has been too willing to work with others, the final words of Hamilton's nomination statement seem ironic: "Sectarianism will be our undoing." Indeed.
In the
elections for the steering committee
, there are several candidates associated with the Labour Party and NHA. My understanding is that they have worked well together, although they will be in different corners in the Euro electoral race in May. Broadly speaking, my sense is that these candidates will maintain the campaign in more or less its common form, based on a broad popular local base, while also rising to the new challenges the coming period poses. I think this probably includes: Toyin Adeyinka, Tamsin Bacchus,
Jos Bell
,
Carol Brown
, Kathy Cruise,
Anita Downs
, Beverly Ejimofo,
Vicky Foxcroft
, Louise Irvine,
Barry Mills
, Staurt Monro, Jill Mountford, Marilyn Murray,
Tony O'Sullivan
,
Vicky Penner
, Janet Scott-Philips, Hugh Shrapnel and Barbara Veale.
They will be challenged by People Before Profit candidates (including Hamilton, Cheryl Coyne and Richard Proctor), who I personally would vote against, as I think they would take the campaign in a very divisive, sectarian direction.
I would also vote against candidates from the
Socialist Workers Party (SWP
), whose record has been to destroy almost all the broad-based campaigns they have gone anywhere near. I think Ian Crosson, Mark Dunk and Maggie Palmer are SWP candidates.*** Their
strategy motion
, calling on the campaign to defend migrant workers' rights, is a good example: while I also oppose "the Government scapegoating migrants, and blaming them for the cuts in the health service", committing a broad-based campaign to this might be seen as a distraction from its core aims.
I write this as something of a spectator rather than activist, so I welcome corrections, comments, disagreements, alternative views.
Short version: if have been a supporter of the Hospital campaign, go along to the AGM tonight and use your vote.
***
In posts over the next month or two leading up to the Euro, mayoral and local elections on May 22, I hope to post more on both
local
and
national
campaigns, including my take on Lewisham's mayor and why I think the NHA party is a bad idea. If you have an idea for a guest post on these topics, get in touch (bobfrombrockley at gmail). Along with other local bloggers, I will be using the hashtag
#Lewisham2014
for debate on Twitter.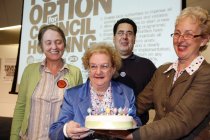 Finally, I want to note with sadness the passing of Jean Kysow, a great Lewisham activist, at the age of 85. Jean, a Downham resident, will be well known for her role in FELTRA (the Federation of Lewisham Tenants and Residents Associations),
Justice for Pensioners
, and
Defend Council Housing
. Jean also stood for the Socialist Alliance and other left groups in local elections over the years. She was a wonderful woman, a larger than life character despite her small size, and a great voice for justice for ordinary people locally and nationally. She will be greatly missed.
*
Lessof Auditorium
is in Blue Zone (that's the Lewisham town centre end of the hospital) right by the Patient Parking. See
this map pdf
.
**
John Hamilton
has featured in this blog before: a guest post
on his Holocaust Memorial Day interjection in 2011
, a post by me on
his involvement with the antisemitic Holocaust denier Gilad Atzmon
, and a guest post
by Hamilton replying to that
.
***
SWP:
Which is not to say that individual SWP activists in the campaign (like individual PB4P activists) are bad people. They are often among the hardest-working and most dedicated (and I'm told that is the case with at least one of these candidates). It is more about strategic direction than anything personal.
Also read:
John Lister on London's NHS crisis
.
Links:
Alternative SE4 election coverage
;
Brockley Central coverage
;
all my Lewisham coverage
;
all my election coverage
.