Hitchens, with poppy and rumpled hat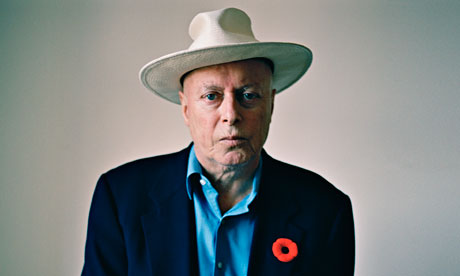 I was moved by the
portrait
by Jamie James Medina of Christopher Hitchens, at home in DC, with red poppy, no hair and rumpled hat, accompanying
Andrew Anthony's Observer interview
with the great man. The sad likely possibility of the Hitch's coming death pushes interviewers towards his so-called "New Athiesm" (a term he rejects in the interview). As a paid-up Old Agnostic, I find this topic the most boring imaginable: while Hitchens is interesting on absolutely everything else (apart, perhaps, from his sex life and his schoolboy japes with his literary pals), he is tedious when talking about God.
Far more interesting when talking about the 1991 Gulf War:
"I said that Bush [senior] may have used the rhetoric of anti-fascism but he didn't mean it. And then I said, yeah, but what if he had meant it? Would I therefore be obliged by my own argument to be in favour? The answer was 'yes'. And then I said, well what do you care how they argue? You should be arguing it yourself. And I found I couldn't get out of that."
And about not criticising Robert Mugabe early on:
"That makes me wince. More than wince. I'd met him a couple of times and I knew that he had in him a terrible capacity for fanaticism, absolutism, and I didn't say as much about that as I could have done. If I asked myself about why I didn't, I'm sure the answer is because I didn't want to give ammunition to the other side."
And about how Chinese capitalism and human rights:
"Darfur, Zimbabwe, Burma, North Korea, anywhere that the concept of human rights doesn't exist, it's always the Chinese at backstop. And always for reasons that you could write down in three words: blood for oil."
And about Hezbollah:
"I was at a Hezbollah rally in Beirut about two and a half years ago," he says. "Very striking. Everyone should go. But of the many things that impressed me about it, having the mushroom cloud as the party flag in an election campaign was the main one. You wouldn't want to look back and think, I wish I'd noticed that being run up. Now I can give you all the reasons that it's bombast on their part. Still, I know which regret I'd rather have."
***
I read a copy of the
Independent
that I found on the train the other day, a day or two after the big HE demo in London. I was interested in the juxtaposition on the same page of two articles. The first, given prominent position, was by Hitchens' good friend, the journalist Patrick Cockburn, "
The United States is facing a decisive political defeat in Iraq over the formation of a new government, as its influence in the country sinks lower than at any time since the invasion of 2003
". The second, also by Cockburn, tucked below it, was entitled: "
Iraqi Christians living in fear as 11 bombs explode in Baghdad, killing five
". Although Cockburn, who in some ways is a fine reporter, does not exactly gloat in the first article, it's hard not to read it between the lines, as Cockburn has been predicting disaster, hoping for disaster, exaggerating the negatives, since the war began. He seems (as are, I imagine, both the editors and readers of the
Indy
) unable to see the relationship between the two articles: American failure, in this case, means the genocidal cleansing of Christians from a theocraticised Iraq.
The continuing bloodbath is chiefly the result of an obscene alliance between the goons of the previous dictatorship and the goons of a would-be-future theocratic one. From the very first day after the overthrow of Saddam Hussein, without ever issuing so much as a manifesto or a bill of grievances, this criminal gang awarded itself permission to use high explosives, assassination, torture, and rape against a population that was given no moment of breathing space after three decades of war and fascism.
Now, unless you can make yourself believe that the doomed, imploding Saddam regime would somehow have managed a peaceful transition from itself to something else in a society that it had already maimed and ruined and traumatized, you have to consider expressing a bit of gratitude to the coalition soldiers who were able to provide some elements of that breathing space and to prevent the next regime from being worse even than the preceding one. At a time when it seemed to many people that Baghdad had already become worse than Beirut and Rwanda combined, I tentatively wrote of the coalition forces as "the militia for those who have no militia," a description that I claim the U.S. troop surge partially vindicated.
I am not 100% convinced by that, and welcome Hitchens' qualifications:
partially
vindicated,
some
elements. But I was thinking something similar when reflecting on the higher education march on November 10. I was struck on the march by the number of students with banners condemning the Liberal Democrats for betraying them. "I want my vote back Clegg" was one example. I wished I had a banner saying, "You stupid students, why did you vote Liberal Democrat? What on earth made you think they were 'progressive'? Thanks for giving us this mess." When I mentioned this at home to Babs from Brockley, she agreed, noting that all the people who didn't vote Labour because of The War had to take the blame for the new government's cuts. She saw this as the reaction of people too comfortable in life, looking for distant victims to get agitated about. I hope those people, many of them of course
Independent
readers, feel some sense of guilt at cheerleading for American's withdrawal when they read about the slaughter of Christians in Iraq, but I doubt they will. Martin had a similar response to William Dalrymple, in
this superb post
.
***
Finally,
this National Post article
by the Hitch is a superb read, on Barack Obama's glacial elitism, ethnic pandering and political clumsiness, but mainly on slopping poll and lazy reporting. Here is a sample sentence: "
Elitism and populism, as we have painfully learned this fall, are too often found in the same person. The simultaneous aggregating and dividing of people by race and ethnicity turns out to be the cheapest and easiest outcome of supposedly democratic measurement."