STRIKE! Goldsmiths staff, 3Cosas, London tube workers
I was sent the
Goldsmiths UCU
press release on strike action at Goldsmiths in New Cross today. I've never been treated as a respected news outlet before now, so it seems churlish not to reproduce it, so I do so below. Also below, student solidarity with the strike, and two items on other London strike actions: on the 3Cosas campaign at Senate House and on London's tube workers.
Goldsmiths College trade unions on strike

3rd December 2013
Trade unions representing the staff at Goldsmiths College have called for further strike action. On Tuesday 3rd December, members of

UCU

and UNISON, representing staff from porters to professors, will walk out at in protest at the 1% pay offer from the employers. Taking into account the sector-wide pay freeze since 2009, this amounts to a pay cut in real terms of 13%. During this period we have seen senior management salaries rise faster than inflation and universities accumulating huge surpluses since the tripling of student fees.
Below is an open letter to Pat Loughrey, the Warden (Vice-Chancellor) of Goldsmiths from the members of Goldsmiths branch of the

UCU

.
On Tuesday 3rd December lecturers and support staff at Goldsmiths will be taking strike action for the second time this year and we would like to make clear our reasons for this. For the fifth successive year UCEA, the employers organisation, have made an offer to increase pay by 1%, well below the current rate of inflation. In effect both lecturers and support staff have seen their incomes fall by 13% since 2008.

Over the same period, student fees have been increased to £9,000 a year for home students and upwards of £11,000 for international students. Thanks to successful recruitment and the acknowledged high quality of degree courses at Goldsmiths the University has managed to maintain a healthy operating surplus, some of which has been invested in improving the state of the teaching accommodation. Sadly this has not been extended to investing in the majority of the staff all of whom make a substantial contribution to the success of Goldsmiths.
While salaries of lecturers and support staff have declined in real terms, the same cannot be said of the Warden who has recently been awarded a 9% pay rise and benefits from a pension contribution far in excess of the annual salary of most support staff. We would like to congratulate him on his success in helping secure the place of Goldsmiths in a global marketplace but would remind him of the contribution to this of everyone who works here. A few crumbs from the top table wouldn't go amiss.
To follow Goldsmiths UCU on Twitter: GoldsmithsUCU. To see live updates on the strike action across the UK: UCU Live The hashtag to tweet about it is: #FairPayInHE.
On Twitter this morning, I see from
KiddingTheCity
that Goldsmiths students are occupying part of the college in solidarity with the staff.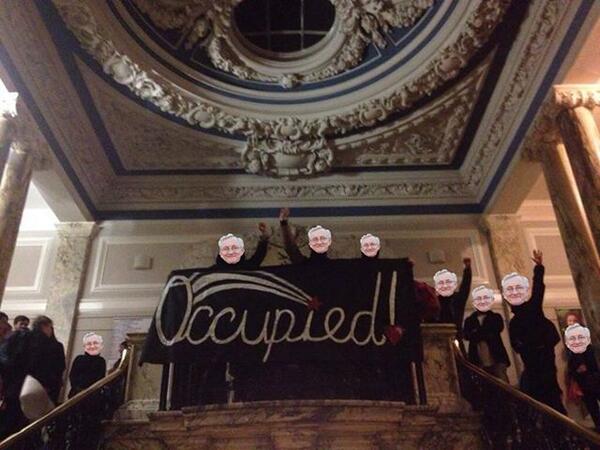 #3Cosas
Last week saw an inspiring bit of an industrial action in the same sector. The University of London, like many other UK universities in this neoliberal age, is contracting out key services to private sector organisations, in this case Balfour Beatty. Supported by the
Independent Workers Union of Great Britain (IWGB)
, the
3Cosas campaign
has focused on
three things (tres cosas)
: the lack of parity between directly employed staff and contracted out staff, on sick pay, on pensions and on holidays. Last week a two-day strike led to major concessions on two of the three.
The strike had a number of key features which make it important. First, 3 Cosas is a movement led by some of the most vulnerable of British workers: migrant workers. Second, the campaign, using social media and simple messages, achieved a great deal of solidarity and support from academic staff and from students, including those outside the normal ambit of "militancy". Third, the movement is outside the control of the bureaucratic big unions, but represents a light-on-its-feet grassroots form of union activity.
3Cosas: on Facebook, on Twitter.
On the tube
This week the
Rail, Maritime and Transport Workers Union (RMT)
is balloting members on strike action to
resist Mayor Boris Johnson's plans to close ticket offices
- a plan that breaks his pre-election promises. The closures will mean hundreds of job losses, as well as make tube users' lives less convenient and, crucially, less safe. Meanwhile, Boris's spin doctors have fed
misinformation
to the media, announcing that the strike ballot is over Boris's more popular plans to extend some tube running hours. It is important to counter this myth: if you get in a conversation with fellow commuters, for example, let them know it is a lie. See the RMT material on their campaign
here
, which does not mention the extended opening hours.
London RMT: on Twitter.